Recap of yesterday for WIAW!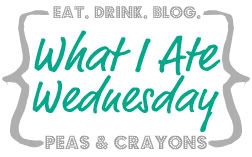 My meals have been rather habit-like the past few weeks. I usually like to cook more at night and have different lunches throughout the week, but I'm loving eating a sandwhich for lunch every day and I just can't seem to find the time to meal prep lately.
Breakfast was simply 1/2 cup Greek yogurt with a sliced banana and 1 tbsp. Agave nector. Such a sweet and fresh breakfast.

P28 bagel with tuna salad, sliced peppers and one wedge of Laughing Cow French Onion cheese.

I snacked on some sliced peppers with a DIY dip. I used 1 tbsp. of Greek yogurt and mixed in some garlic powder and Kernal Season's Popcorn Seasonings in Ranch to taste. Plus, a few scallions. It was a really good dip and it would be perfect in a big batch for the Big Game this weekend!

My new favorite salty/sweet combo, thanks for Running with Spoons for the idea! Cottage cheese and 1 tbsp. jelly or jam.

Afternoon snack, 1/2 Fuji apple with 1 tbsp. Better 'n Peanut Butter. Classic snack.

I did a little leg work at the gym, some squating, dumb bell stiff-legged deadlifts, cable pullbacks and sumo squats with a kettle bell. It started getting super busy so I cut my workout short and headed home.
I made a delicious-o Better 'n Peanut Butter chocolate protein shake with unsweetened Almond milk from Trader Joe's. And a dollop of light cool whip to make it THAT much better.
Dinner was light as I've been eating really, really late lately (like 9-10 p.m.) and then because I wake up around 6:30-7:00, my digestive system is usually a little off. I'm going to try to either eat light dinners or earlier ones.
Homemade Pistachio Butter on a 1/2 P28 bagel with Agave drizzle. SO good.