Krave bars vs. Quest bars
It's a protein bar smackdown for What I Ate Wednesday!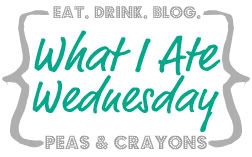 Outside of eating an abundance of randomness today including Chipotle, apple and peanut butter, greek yogurt with Pistachio jello mix and a deliciously fudgey chocolate peppermint muffin cake (recipe tomorrow), I also did some protein bar taste-testing!
I've become a big fan of protein bars but am still discovering which ones I like and which ones are better for me.
All you Quest bar freaks (don't be offended, I am included in that group), there's a new bar in town and its sizing up to the fan favorite Quest Bar.
I was thrilled to give Krave bars a try. I discovered the brand on Instagram and was intrigued with the up-and-coming brand as I had recently found, and started to regularly eat Quest bars, a similar and very popular low-carb protein bar.
Krave bars really are freshly made in Pure Fitness Nutrition's kitchen. I got a fresh batch of Raw Cookie Dough and Banana Nut Chocolate Chip to try out! Nothin' like fresh protein bars, amiright?
Pure Fitness Nutrition makes it clear they care about what consumers are putting in their bodies. Many protein bars on the market today are filled with ingredients like high fructose corn syrup and lack the fiber that helps fill your stomach up.
Like Quest bars, Krave bars contain few net carbs. Net carbs (sometimes referred to as 'active carbs') is the total amount of carbohydrates after the fiber count is subtracted. Since fiber isn't digested by the body, many people don't consider it a part of carbohydrate count. This is especially important to people who are on low-carb diets or body building as they're generally counting (and watching) carb intake. There's certainly debate surrounding the net carb vs. total carb theory as there's insignificant research supporting or refuting whether net carbs aid in weight loss.
Krave bars are also gluten free, high in protein and contain no preservatives. Plus, they've got great flavors:
-Baked Apple Pie
-Chocolate Fudge Brownie
-Peanut Butter Chocolate Crunch
-Raw Cookie Dough
-Banana Nut Chocolate Chip
-French Toast
Raw Cookie Dough vs. Quest Chocolate Chip Cookie Dough
Since both companies offer cookie dough flavors, I compare the two bars in that flavor. Cookie dough is Quest's most popular flavor.
Net Carb Count:
Krave – 6 grams
Quest – 3 grams
Since I'm still a little blurry on whether or not this counts as much as it does in weight loss and maintenance, I don't have a strong preference to either one. Regardless of whether net carbs is important or not, the difference between Krave and Quest is so insignificant that I'd say they're comparable.
Taste:
Krave – First, I tried the Krave Cookie Dough bar at room temperature. It wasn't too sweet, which was great. No artificial sweetener taste. Although I could taste the whey, it didn't bother me as I'm used to the taste and enjoy it. The bars are also pretty fluffy and maintained their shape. Soft and chewy, like real raw cookie dough! I didn't get too many chocolate chips in my bar, but the dough was good enough on it's own.
Then, I warmed up the bar for 15-20 seconds in the microwave. As most protein bar aficionados know, this can really do wonders  When it was warm it was really doughy and fluffy. It actually almost had a coffee taste which I enjoyed since I like coffee (see blog name for proof
).
Quest – The cookie dough flavor is very sweet, probably due in part to the Stevia sweetener and chocolate chunks. Quest definitely has more chocolate chunks in their bar, but it can really be too sweet to an extent. I can definitely taste the Stevia.
When warm the chips melt into ooey gooey goodness but the bar's texture does dry up a little bit.
Macronutrients:
Krave – 240 calories, 9 grams fat, 24 grams carbohydrates, 20 grams protein, 16 grams dietary fiber
Quest – 190 calories,8 grams fat, 21 grams carbohydrates, 21 grams protein, 17 grams dietary fiber
Very comparable! As someone who doesn't hang my hat on counting calories so much as my macronutrient intake, these are both very similar.
Ingredients:
Krave – Whey Protein Isolate, Milk Protein Isolate, Agave Inulin, All Natural Peanut Butter, Sea Salt, Chocolate Chips, Erythritol. Less than 1% Sucralose
Quest- Protein Blend (Whey Protein Isolate, Milk Protein Isolate), Isomalto-Oligosaccharides* (100% Natural Prebiotic Fiber), Almonds, Water,Unsweetened Chocolate, Cocoa Butter, Erythritol, Contains less than 2% of the following: Salt, Sucralose, Stevia, Peanuts, Cashews, Milk, Natural Flavorings
What is Erythritol? Both bars contain this sugar alcohol. Erythritol is a low calorie sweetener (from plants) that's not completely absorbed by the body. It's almost 70 times sweeter than table sugar and has a very low impact on blood sugar spiking because it's low on the glycemic index. Like most non-traditional sweeteners, there is controversy over Erythritol as it may promote bloating and diarrhea.
Price:
Krave – Cookie Dough 12 pack on Amazon: 29.29 plus free shipping
Quest – Chocolate Chip Cookie Dough 12 pack on Amazon $26.39
Banana Nut Chocolate Chip
I also tried the Banana Nut Chocolate Chip Krave bar. At room temp it was very heavy in the banana flavor. I love bananas but actually don't like banana flavoring all that much (weird, I know). Once I warmed it up the banana flavor was more subtle and the bar was still really fluffy like the Raw Cookie Dough one. Definitely preferred this one warmed up!
What's the verdict?
I'll take them both!Each bar has their pros and cons and can satisfy different cravings. For more of a sweet, candy-like craving I'd go with Quest. But for a fluffy, dessert I'd definitely grab a warmed up Krave bar. I can't wait to try other Krave flavors, especially French Toast. Girl loves her french toast

——————————————————————————–
Check out some Krave bar recipes on their facebook page.
You can purchase single or Krave bar packs on their website or amazon.
Please note: I was provided samples from Pure Fitness Nutrition at no charge but all opinions and writing are my own.