I don't know about you, but I am getting a little sick of THIS …

But because it's all things LOVE this week, I'm practicing my love … love with Red Velvet that is.
I love protein shakes with chocolate or vanilla protein powder. They're seriously my daily/nightly treat. Whether simply mixed with almond milk or blended with peanut butter, they definitely help curb my sweet tooth.
But I'm feeling especially sweet this week, so I made a Red Velvet protein shake and it was phenom.
I had a box of Red Velvet cake mix on hand so I used that for the recipe. Thanks, Betty Duncan Hines.
Ingredients:
-5 ice cubes
-3/4 scoop chocolate protein powder
-2 tbsp. cottage cheese (I used 4% milk fat but you can use what you like)
-1 tbsp. Red Velvet cake mix
Blend!
You can definitely make your own Red Velvet mix with ingredients like cocoa powder, butter extract and vanilla extract. Red Velvet is a mysterious flavor that's not quite chocolate and not quite vanilla. Traditionally it's the mixture of buttermilk and cocoa flavors.
Here are some recipes with DIY Red Velvet mixes:
-Dashing Dishes' Red Velvet Cheesecake Protein Shake
-Accidental Fitness Quest's Red Velvet Protein Shake
Pre-shake, I ate normal food.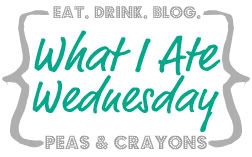 Butternut squash black bean enchiladas, tuna and avocado, olives with garlic stuffing, baby carrots and cottage cheese with a tablespoon of raspberry jam.